BUSH THE SPEED DEMON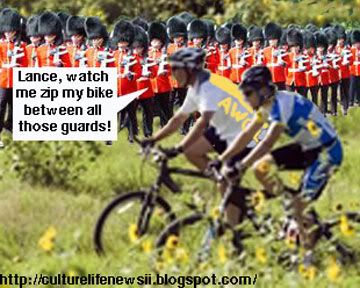 By Elaine Meinel Supkis
Bubble Boy bicycles with a bunch of ditto heads and a bike champ. He is fit and happy and having a lark and didn't run over any Bobbies because they were at the Bush ranchette.
From AP:
The leader of the free world (sic) and the world's biking master rode for 17 miles on Bush's ranch for about two hours at midmorning. Bush showed Armstrong the sites of the ranch that he calls "a little slice of heaven," including a stop at a waterfall midway through the ride.

They were accompanied by a small group of staff and Secret Service agents and a film crew from the Discovery Channel, Armstrong's Tour de France sponsor, which had exclusive media access for the ride. Footage was shot for a program on Armstrong to air next week.

Neither Bush nor Armstrong spoke to reporters, although White House spokesman Trent Duffy said the president was impressed with the seven-time champ's skills.

"Recognizing what the world has known for years, the president said, 'He's a good rider,'" Duffy said.
Yes, he didn't run over any SS guards. Amazed Bush no end. He didn't fall off his bike, either. This pleased our bubble boy no end. Shazzam!
Duffy wouldn't say whether they talked politics, a topic that Armstrong has said he is getting more interested in now that he's retiring from biking at age 34. Armstrong calls Bush a friend, but he has spoken out against the war in Iraq and has said he wants the government to spend more money on cancer research.
As if any human being can talk to Bush about the war. More soldiers blown up, more bereaved moms, more anti Bush demonstrators at the front gates, Bush's polling numbers falling like a Bush on a bike. Yup. No politics from any dang visitors.
From Treason Incorporated:
Instant Nazi; Just add meth!

One symptom of it's use is the perception that one is "working hard" while doing little or nothing like Mr. Bush who often talks about "hard work" while it is evident that he himself doesn't do a hell of a lot and has taken 50 vacations since seizing the White House in January 2001. A false sense of power and the ability to rationalize anything at all are other symptoms of it's use as are diminishing capacity for empathy and raw aggression. Nothing I've said is news and it's effects have been known and used since the Nazis invented it and marched into Poland on the stuff. "Marching Powder" I'm told was it's original name there. I bet.
Interesting. We know Bush was a lush and a cokehead. But his vanity and his need to keep awake now he has no booze (yeah, like, right!) means he needs some stimulation. Now consider this article:
From the BBC:

Methamphetamine users had bigger brain areas involved in attention, motivation and the control of movement.

They also fared worse in tests of brain function, the University of California, San Diego team found. snip
Each volunteer had a brain scan taken and completed a battery of tests that examined cognitive skills such as learning and recall, verbal fluency, information processing and motor functioning.

The meth users had increased volumes of the parietal cortex and the basal ganglia in the brain, while those with HIV had smaller than normal volumes of the cerebral cortex, basal ganglia and hippocampus.

I'm not surprised by the findings given the way the drug acts in the brain
Professor Trevor Smart, head of pharmacology at University College London

All of the abnormalities were linked to poorer performance on the cognitive tests. The researchers said these alterations and impairments could cause problems in every day life for the individual.

Head of the team Dr Terry Jernigan said: "In HIV-infected people, the cognitive impairments are associated with decreased employment and vocational abilities, difficulties with medication management, impaired driving performance and problems with general activities of daily living, such as managing money.
Yup, driving a bike over guards, managing money, heck, look at the fiscal mess we are in! Astounding, isn't it? A typical speed freak talks faster than they think and end up babbling nonsense or repeating robotically phrases stuck in the mind and who talks like that!
Fits Bush like a yellow striped shirt, no?
This speed freak wants everyone to be speeding. Here is a disturbing news story that should alarm anyone who goes on highways:
From the Seattle Pi:
Truckers can still spend six days on the road during the week and drive for 11 hours at a time, thanks to a rule the Bush administration decided to leave intact even though truckers and safety advocates say it's unsafe.

For 60 years, truckers could drive for 10 consecutive hours. On Jan. 1, 2004, the Federal Motor Carrier Safety Administration changed the rule to allow them another hour behind the wheel.

A federal court, however, threw out the changes.

On Friday, the truck-safety agency announced that a revision to the rule would still allow the big rigs to roll for 11 hours, three hours more than safety advocates say they should.
Freaked out, frenzied, brain shrunken meth using truckers! Just what America needs.
Here is what happens.
From the Albany Times Union:
Two women died Friday after a tractor-trailer heading west on I-90 careened across the median and smashed into their cars.
The accident occurred just before noon between exits 9 and 10 in East Greenbush, State Police said.

Gina Gulotty, 45, of Sycamore Street in Albany, was pronounced dead at the scene. Gulotty, an Albany lawyer honored in 1998 as one of the Enterprising Women's Leadership Institute's Enterprising Women of the Year, was taken to Albany Medical Center Hospital for an autopsy. She was driving a 2002 Oldsmobile Alero.

The driver of the second car, identified as Samantha J. Vanalphen, 23, of Johnstown, also was killed, as was a dog riding in her vehicle.
I don't know why a guy driving a huge rig on a segement of highway I use a lot, ran wild. It was a pleasant, normal day. No reason. Look at what he did:
Can't even tell those twisted metal messes were cars with women driving them! Why the government wants to make our roads unsafe is easy: money. The companies are willing to risk this sort of mess if it makes them slightly richer! Doesn't that make you want to get on a bike and peddle around a puddle.
To return to homepage click here