The Family Enjoys Dinner and Thank You, Everyone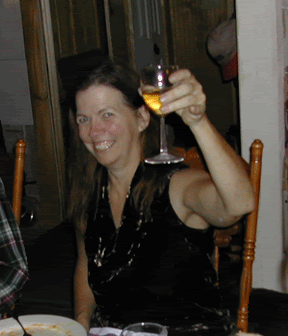 By Elaine Meinel Supkis
It has been only half a year since Culture of Life News was launched and we just want to thank our readers for taking the time to look into this blog. We hope to keep this going, see no reason why not. So many things to say, so many things to do! Enjoy life, for living is the whole point of being alive, no?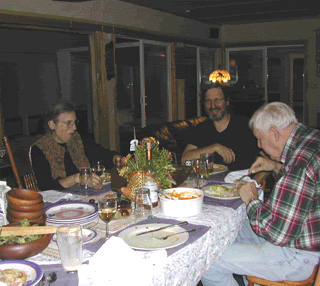 My dear husband, Chris, and his parents, Stan and Rosemary, sat at one end of the table. Happy birthday, Rosemary! Live long and prosper (proper Spockian pronouncement).
My son, Dan, peace.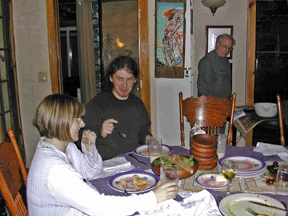 Dan and his sister, Isadora at the opposite end of the table, their dad in the back, checking out the apple pies he and Rosemary, my mother-in-law backed. Everyone made pies so we get to eat them for the next week which is OK with me.
The clean-up crew arrives just in time to clean the floors, wash the dishes and quarrel with each other over the right to lick the turkey bowl. They do a pretty good job. Nothing is missed.
This morning, it is 12 degrees F outside. Ice on everything. The chickadees are all over the peach tree outside my window, each pecking apart their sunflower seeds. The chickens descended upon the remains of dinner, eating the potato peelings and salad left overs. Sparky gets another apple, of course.
I hope everyone enjoyed yesterday as much as we did. Life can be sweet, we enjoy those moments that are like this. And happy birthday, Dad! I love you.
To return to homepage click here
To read more health news click here